Incheon Port Ah-am Logistics 2 Complex, South Korea's Leading E-commerce Cluster - Regional Exhibit Hall
Incheon Port Ah-am Logistics 2 Complex, South Korea's Leading E-commerce Cluster
Incheon Port is composed of port facilities including the Inner Port, South Port, North Port, and New Port, mooring facilities, International and Coastal Passenger Terminal, and hinterland complexes (site). It is positioning itself as a state-of-the-art port by introducing facilities for berthing extra-large container ships and automatic unloading facilities. In line with the growth of the global e-commerce market, Incheon Port Ah-am Logistics 2 Complex is being developed as a new harbor hinterland complex specializing in e-commerce by tapping into Incheon Port's geographical advantages and logistics infrastructure. In August 2020, the Ministry of Oceans and Fisheries designated Incheon Port Ah-am Logistics 2 Complex as a specialized zone for e-commerce, making it the nation's first port area developed for the growth of the e-commerce industry. The Incheon Port Authority is introducing diverse programs to actively support resident companies and plans to build the "Smart Logistics Center" based on cutting-edge IT infrastructure tailored to e-commerce and to lend the spaces to startups at affordable rates.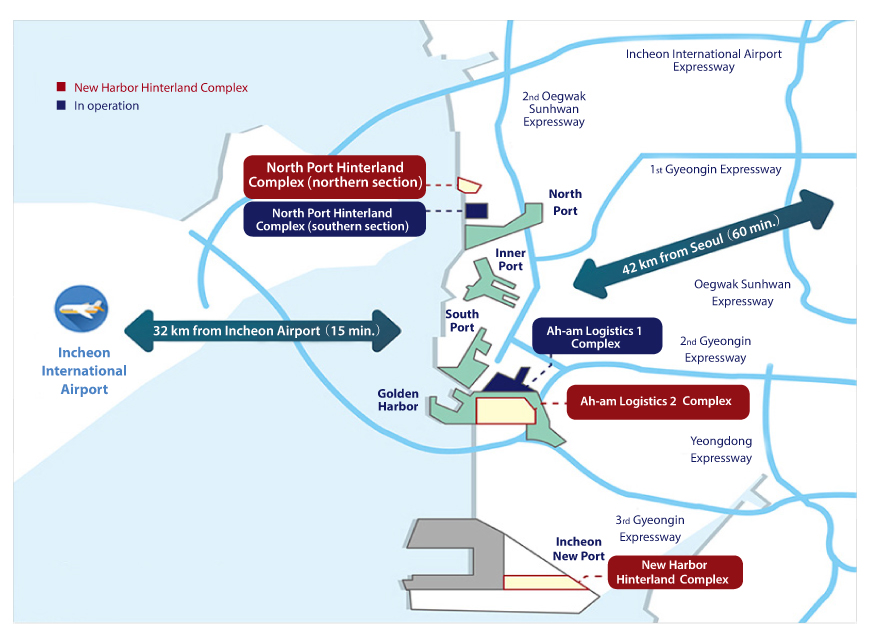 Site Information
Name :

Incheon Port E-Commerce Specialized Zone

Location:

Ah-am Logistics 2 Complex (around 297 and 300 Songdo-dong, Yeonsu-gu, Incheon)

Site:

Total of four lots (area: 251,292 ㎡) in Zone 1, Phase 1 (area: 670,000 ㎡)

Managed by:

Incheon Port Authority (www.icpa.or.kr)

Contact:

Logistics Strategy Office (032-890-8211~8214)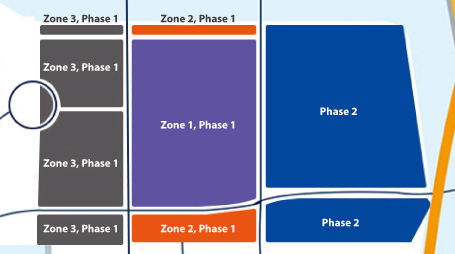 You can check the table by moving it from side to side.
(Touch to close the information window and use it.)
Site Information

| Type | Area(㎡) |
| --- | --- |
| E-Commerce Specialized Zone | 251,292 |
| ① | 46,753 |
| ② | 33,765 |
| ③ | 82,917 |
| ④ | 42,463 |
| Smart Logistics Center | 45,394 |
Resident Recruitment Procedure and Evaluation Criteria
Resident Recruitment Procedure

Resident qualifications: Evaluation based on Clauses 1-5, Paragraph 1, Article 69 of the Harbor Act

Evaluation criteria
- Defined based on the characteristics of the specialized zone (business capacity, feasibility of the proposed business, cash procurement ability, contribution to Incheon Port, etc.)
Key Highlights
Statistics of e-commerce import and export cargo in the last four years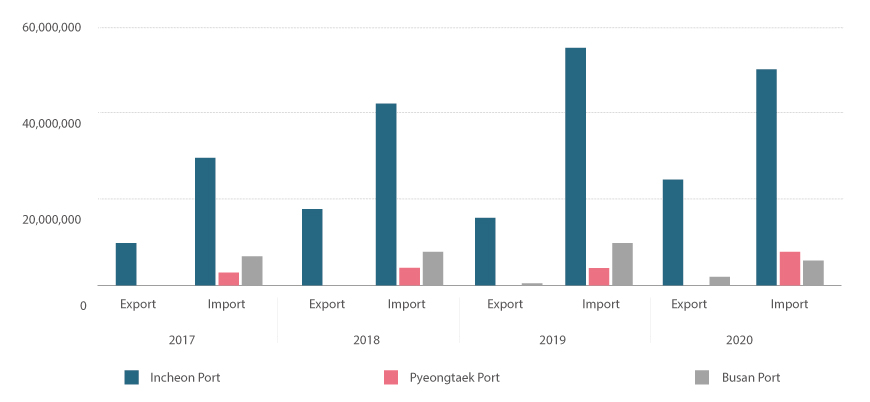 Source: Korea Trade Statistics Promotion Institute
E-commerce cargo of Incheon Port on the rise
-Annual average growth rate of 23% by value and 28.2% by weight recorded in the last four years
Scheduled construction of the "Smart Logistics Center" based on cutting-edge IT infrastructure
- Designated as a Korean New Deal project in 2020 and assigned a budget of KRW 40 billion, the construction project will involve the development of high-cost cutting-edge logistics equipment and an IT system for the purpose of minimizing financial burden for residents and serving as a stable business incubator.
Strengthening the competitiveness of the e-commerce industry and contributing to the local economic development
- The e-commerce industry, due to the nature of its cargo, has potential for boosting high added-value logistics.
- The construction of the "e-commerce cluster" in Incheon Port is expected to attract private investment worth approx. KRW 352.8 billion and create more than 515 jobs.
- It is expected to grow as the nation's leading marine e-commerce specialized complex by bringing together related organizations and businesses.